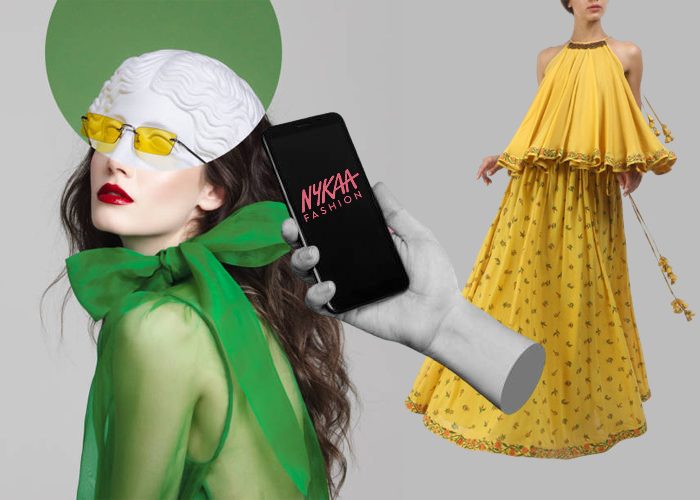 Competitors of Nykaa Fashion include Myntra, Ajio, Tata Cliq, Amazon Fashion, and Flipkart Fashion
Launched in 2018, Nykaa's fashion division had a 66% increase in recurring business in Q2 FY23 and made up 26% of the e-commerce company's quarterly consolidated GMV. Will the growth continue?
The September quarter saw significant growth for Nykaa Fashion, a direct subsidiary of Nykaa's parent company FSN E-commerce Ventures Ltd. This development was mostly fueled by the demand for the holiday season as well as new product introductions.
As a result of a 66 percent increase in annual unique transacting consumers, it reached 2.1 million at the end of September. In the end, fashion GMV contributed 26% to the quarter's total GMV for Nykaa. The platform's holiday sale, "Nykaa Fashion Grand Festive Carnival," also attracted 18 million unique visitors per month in September, setting a record.
Falguni Nayar, the founder, MD, and CEO of Nykaa, declared: "We're devoted to establishing a distinctive consumer proposition in fashion, supported by investments in a differentiated product, partnerships with international brands, and expansion in the depth and breadth of our owned brand portfolio. New season products accounted for 24% of Nykaa Fashion GMV, while international brands made up 13% of the western wear category in Q2 FY23, demonstrating our commitment to curation and exploration in fashion.
Repeat customers now make up 66% of Q2 FY23 GMV, which gives us confidence in our product offering, she continued.
Competitors of Nykaa Fashion include Myntra, Ajio, Tata Cliq, Amazon Fashion, and Flipkart Fashion. 1.8 million products from more than 1,500 businesses are currently housed there, divided into five consumer groups: women, men, kids, tech, and home. It sells products in a variety of categories, including Western apparel, Indian wear, footwear, athleisure, home décor, bags, jewellery, accessories, bath, bed, and kitchen, among others, within these sectors.
However, the sector has not yet begun to make money. Analysts don't appear overly worried. Losses in the fashion industry may be important, but given the high level of fragmentation in this market, we prefer Nykaa's methodical, methodical approach. With its private labels and exclusive partnerships with international brands, Nykaa may gain an edge in the fashion industry as well, according to a post-earnings study from Elara Securities.
Despite suffering losses, Nykaa Fashion's expansion outside of the company's primary beauty and personal care (BPC) business actually coincides with the growth of online fashion in India and the growing proportion of the sector in the overall e-commerce market.
According to a Bain & Co. analysis from October 2022, the category mix of internet buying is quickly changing. "The biggest penetration headroom (compared to mature markets) is in general goods categories, like personal care, and grocery, which will drive expansion in these sectors. By 2027, these categories will collectively make up to two-thirds of the e-retail market, according to the analysis.
The article goes on to say that Gen Z consumers who are just starting out on the internet "mainly purchase fashion as the first category online, and they often start buying at entry price points." Even more than smartphones and gadgets, fashion is still a "gateway category" in e-commerce and is essential for bringing on new customers.
Nykaa Fashion and California-based fashion e-tailer REVOLVE joined earlier in October to create a digital shop for over 400 international brands and 26,000+ items in the categories of clothing, footwear, and accessories. Due to the fact that both businesses are well-liked by millennials and Generation Z, they work well together.
Prior to that, Nykaa collaborated with Apparel Group, a Dubai-based fashion and lifestyle retailer, to develop its omnichannel business in the Gulf Cooperation Council (GCC) nations. After ten years of operation, Nykaa is expanding its footprint internationally for the first time. The deal has received positive feedback from analysts.
"Apparel Group is a multi-category offline powerhouse with over 2,000 locations and a rising online presence. It can generate significant value through the joint venture with Nykaa, who has experience in omnichannel retail and excellent brand partnerships," Elara Securities stated.
On Wednesday, Nykaa shares fell 2.84 percent to Rs 1,151.75 in the intraday session on the BSE.