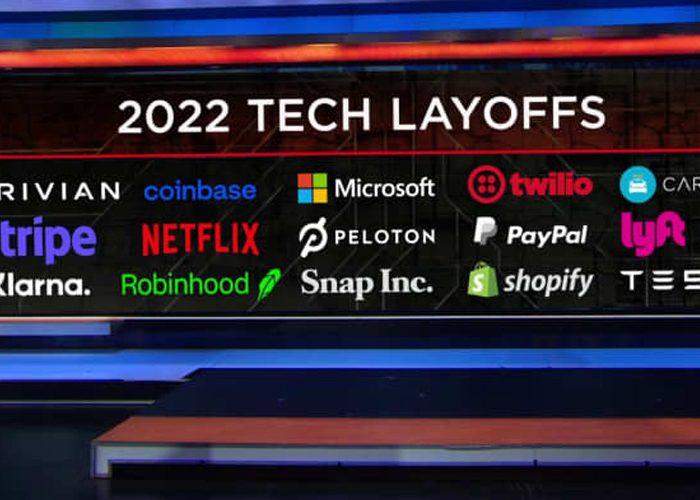 In 2022, job cuts in tech are increasing in the face of uncertain economic conditions
The job cuts in tech land are piling up, as companies that led the 10-year stock bull market adapt to a new reality. Days after Twitter's new boss Elon Musk slashed half his company's workforce, Facebook parent Meta announced its most significant round of layoffs ever. Meta said on Wednesday that it's eliminating 13% of its staff, which amounts to more than 11,000 employees.
Last month, Meta announced a second straight quarter of declining revenue and forecast another drop in the fourth quarter. Digital advertisers are cutting back on spending as rising inflation curbs consumer spending, and apps like Facebook are suffering from Apple's iOS privacy update, which limited ad targeting.
The tech industry broadly has seen a string of layoffs in 2022 in the face of uncertain economic conditions. Here are the big ones that have been announced recently.
Meta: about 11,000 jobs cut
Meta's disappointing guidance for the fourth quarter wiped out one-fourth of the company's market cap and pushed the stock to its lowest since 2016.
The company's Reality Labs division has lost $9.4 billion so far in this year due to CEO Mark Zuckerberg's commitment to the metaverse.
Meta is rightsizing after expanding its headcount by about 60% during the pandemic. The business has been hurt by competition from rivals such as TikTok, a broad slowdown in online ad spending and challenges from Apple's iOS changes.
In a letter to employees, Zuckerberg said those losing their jobs will receive 16 weeks of pay plus two additional weeks for every year of service. Meta will cover health insurance for six months.
Twitter: about 3,700 jobs cut
Shortly after closing his US$44 billion purchase of Twitter late last month, Musk cut around 3,700 Twitter employees, according to internal communications viewed by CNBC. That's about half the staff.
In a post on Nov. 4, Musk said there was "no choice" but to lay off employees, adding that they were offered three months of severance.
Musk said the layoffs come as Twitter is losing over US$4 million per day. In the second quarter, the last time Twitter reported earnings, revenue fell 1% from a year earlier.
Bottom Line
One takeaway is the solid impact that the pandemic has left in its wake on the global economy. It has changed a lot of our work lives and within that, work culture has changed, work from home is a big reality; silent quitting is rising, and relationships between employers and employees are seeing a tectonic shift. Could this lead to a completely different work scenario?
People have talked about the great resignation or the great reshuffle, it is more like a great rethink. No question Covid was a reset moment for a lot of us. And if people think that is all forgotten and all back to square one, again one is being naïve about that. People are re-examining how they want to live their lives and they are looking for understanding about how to bring more coherence into their lives, how they are going to work, and what they do in their lives.